As Moped style E-bikes grow in popularity, there have been many copies of the "Super73" style of bike, and while most are quite expensive, Engwe has stepped into the game with their new affordable M20 Fat Tire E-Bike. Featuring 20x4" fat tires, a 1000w motor, dual suspension, and a massive 26AH battery, does the M20 hold its own in comparison to the competition?
Rather watch a video? Check out the video version of this review! Pilotgeek's Bike Reviews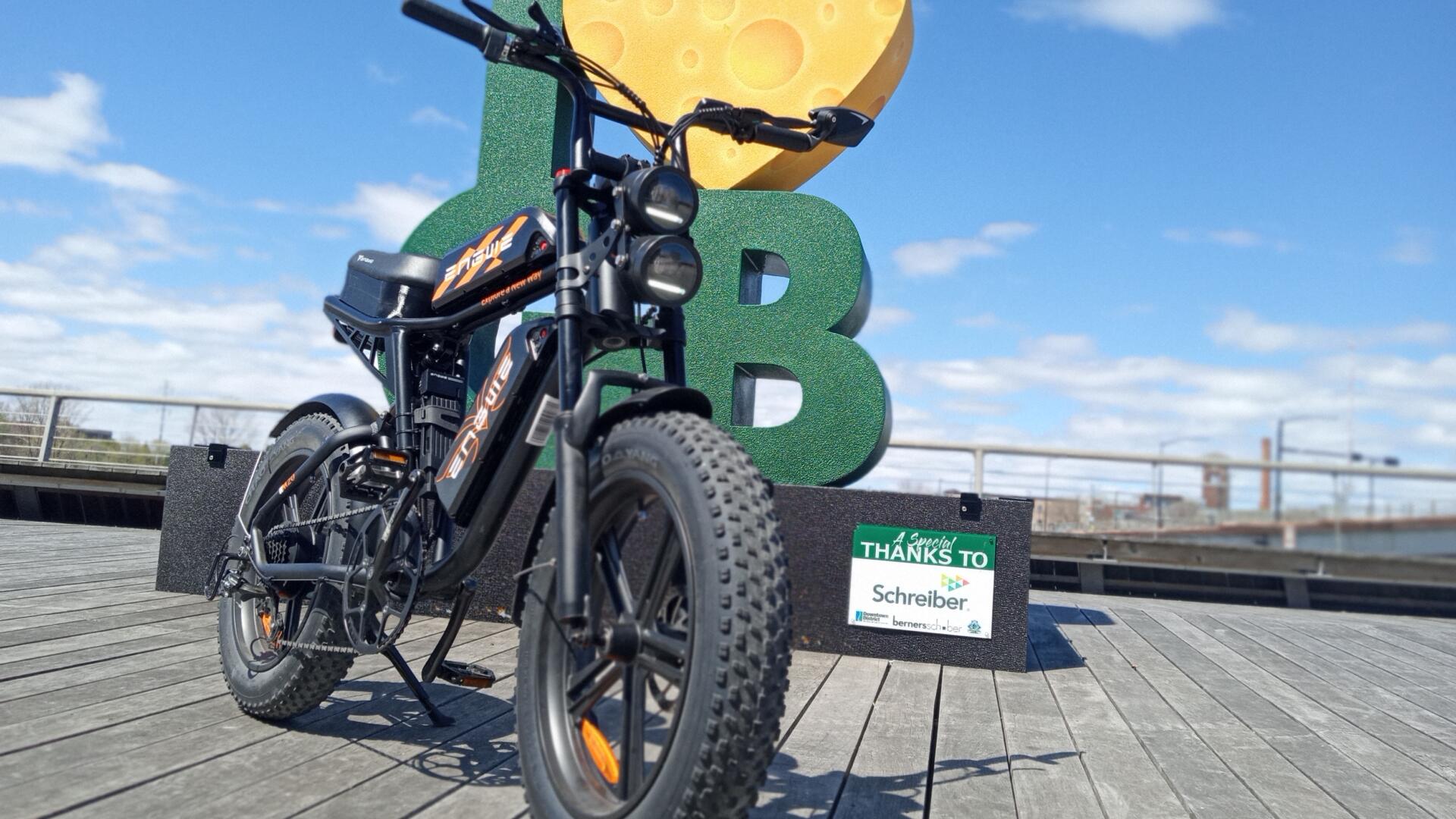 Unboxing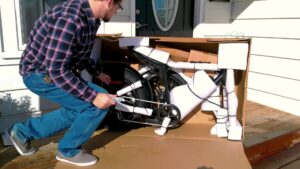 The M20 ships in a box approximately the size of a large bicycle. This makes sense, as the bike comes almost fully assembled. I was able to quickly remove the surplus of packing foam, which did a great job of ensuring my bike arrived in perfect condition, despite the beat up box.
A smaller box within the box contains the charger, pedals, assembly manuals, some nice Engwe deals, and a cargo bag, which takes temporary place of my second battery. Also boxed separately are the massive headlights, along with some basic tools for assembly.
Initial Impressions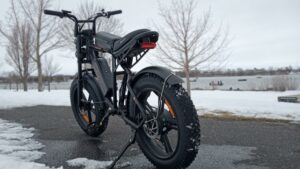 I've been wanting to try one of the more "dirt bike" style E-Bikes for a while now, and the looks and styling sure don't disappoint. It looks extremely tough and beefy in person, looking far less like a bicycle and more like a motorcycle. At the front, one of the primary standout features is the large set of Dual LED headlights, coupled to the double crown fork and motorcross style handlebars. The LED headlights and taillights are switched off via a dedicated button, along with another button for a rather weak sounding horn. On the opposite side of the bars, we have our shifter, and keeping with the moto theme, a full twist throttle.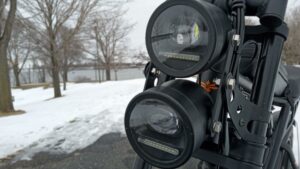 This bike is more than just looks though, and working our way down the forks, we find an adjustable compression damper, with a matching oil shock for the rear suspension. Paired with the massive 20x4" tires mounted on mag rims, this should make for a comfortable ride. The motor featured is a 750W geared motor capable of 1000W peak, with additional power delivered via your legs through a 7 speed gearset. Stopping is accomplished with the help of some 160mm mechanical disk brakes, which are only just adequate for this sort of bike.
Range
Engwe's M20 can be equipped with either a single or dual battery configuration, depending on your range and power needs. Engwe claims a max range of 47 miles per 13AH battery, for a theoretical total of 94 miles on a fully charged dual battery machine. I purchased a watt meter to measure the battery consumption per mile, and with an average usage of 12 watt hours per mile at pedal assist level 1, I could potentially go a bit over 100 miles! At the other end of the spectrum, I went on the same 7 mile round trip at maximum speed on pedal assist level 5 and averaged a bit under 25 watt hours per mile, which should still get a very respectable 50 miles. I was convinced that Engwe's 47 miles per battery estimate was going to be an outrageous lie, but on flat ground with little wind, it seems entirely possible.
Comfort
While pedaling can greatly help range, it does feel a bit… awkward on this bike. This would probably be easier with a shorter rider, as it feels like riding with the seat permanently too low, but I suppose that is the compromise for a bike of this style. Even on small bikes, you can usually just adjust seat height. Not so much with this bike, as it has a seat that appears to only be compatible with this model. If you are under 5'9", you should be perfectly fine with this bike, but much over that and you will not be able to pedal comfortably.
Modifications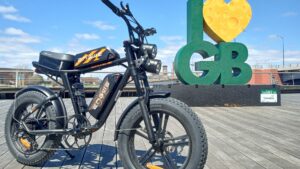 To remedy the seat problem, I decided to engineer my own seat riser. The seat mounts using 4 studs through the frame, and to extend these, I used some coupling and additional studs through the bottom to secure it to the frame. To prevent it from looking like I was riding on stilts, I whipped up a proper spacer in CAD and 3D printed it using almost a whole spool of TPU to provide some extra reinforcement. After a few revisions, I think I got it looking a lot more streamlined to match the bike, and it feels very solid. My ideal "lowest seat height" leaves my leg parallel with the ground at the highest point, and this riser just gets me to that point.
In addition, I also added shorter pedal cranks and a larger chainring. This raises the gear ratio, allowing me to more comfortably pedal at higher speeds, and the shorter crank arms mean my legs do not have to rise as high on each stroke. After these two mods, I'm happy to say I can now comfortably ride the bike, even at 6' tall.
Experience
So what's it like to ride? Honestly, it's awesome! I have not had this much fun on a bike in a long time.
I took the short hop out to our local bike trail by taking the road, and could easily keep up with 25mph traffic, no problem. I took a brief detour to try the suspension on a torn up road with construction, and the suspension soaks up the bumps as if they weren't even there. Seriously, most cars slow down to like 5mph over this bump.
I was a bit worried about the smallish mechanical brakes, but this shot took me like 5 takes because I kept coming up short. I don't know what kind of magic Engwe sprinkled into these brakes, but they do lock up the tires and bring me to a stop mighty quick.
The handing of this bike is great too, doing a wonderful job of pulling into my local starbucks to jot notes about my ride. In all seriousness, the wide bars give great control over the bike, and it feels super stable, which was especially useful in snow, where ruts and footprints want to pull the tires, but the bike was super controllable as it floated over the terrain.
Conclusion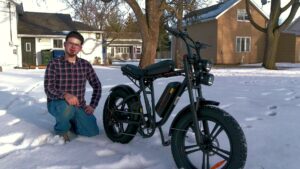 So all in all, what do I think about the M20?
If you want a bike that will reliably get you around town or to work and back with little effort, I think this bike is a great option. I've never felt so confident on rough roads on a bike, ever. The highly visible lights, comfortable stance, and astounding ride quality make this perfect for tackling the rough and bike-unfriendly roads often found in much of America. As a compromise, this bike is very obviously meant to be ridden primarily on motor power, with pedals mostly being useful to add a bit of torque to your acceleration, or just to putt along a trail for a bit if you want to ride somewhere with a slower pace in mind.
Engwe Official Website (Sponsored Link)
https://shareasale.com/r.cfm?b=1787362&u=3200783&m=111433&urllink=&afftrack=
3D Print Files
Headlight Gromets: https://www.printables.com/model/465536-engwe-m20-headlight-gromet
Seat Riser: https://www.printables.com/model/459387-engwe-m20-seat-riser
Amazon Sponsored Links
Bar End Mirror: https://amzn.to/3nfu3se